All About The VAPO Flow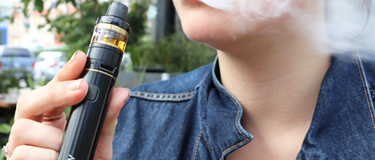 The VAPO Flow is our flagship sub-ohm device, a collaboration with Vaporesso. We wanted to make the best stick style, direct to lung vape on the market. The easy to use one-button design makes this a great vape for beginners and advanced vapers alike looking for big clouds and great flavour. It is a compact, stick style, direct to lung starter kit that consists of three basic components; the main body, with it's built-in 3000mah battery and Micro USB charging point, the disposable coil and the 5ml top-fill tank.
What is direct to lung vaping?
Direct to lung vaping is a style of vaping that produces large clouds of vapour. This is on account of two things, the coil being low resistance and the device providing enough airflow to allow direct to lung inhalation. There are many advantages to using a sub-ohm device.
Great flavour: Sub-ohm devices use coils that are capable of vaporising a lot of E-Liquid with each puff.
More airflow: More airflow is required in sub-ohm devices to cool down the amount of heat the large coils are producing.
Big clouds: For a lot of vape users it is appealing to see more cloud when they vape. Sub-Ohm devices are a great way to achieve this. Read more about the different styles of vaping here. 
Nicotine e-liquid
Because the VAPO Flow is a refillable device, it provides the user with endless options in E-Liquid flavours they can use. It is recommended that sub-ohm users use a low level of nicotine such as 3-6mg as these devices produce more vapour- more nicotine is ingested. It is not recommended for sub-ohm users to use a high amount of nicotine as it may be too harsh and impart too much nicotine even for heavy smokers. Vaping at a lower level allows the user to get a satisfactory amount of nicotine whilst remaining flavourful.
The technology behind the coils
The VAPO Flow comes with two different types of coil, a 0.18 mesh coil and a 0.3 ceramic coil. The 0.18 mesh coil sits in close contact with the juice soaked cotton and can produce a more even heat transfer. This is a great option for users that want a large amount of cloud. The 0.3 ceramic coil is lower resistance and can provide a bigger "throat hit" which can result in a more mouth-to-lung style experience. With all coils remember to allow E-Liquid to soak for 10 minutes before usage.
How to charge your VAPO Flow:
The VAPO Flow has an internal battery with a Micro USB charging point. All Flow devices are sold with a USB cable to charge your device with. All you have to do is plug it into your computer or use one of our VAPO wall chargers. Charging time is 1.5hours and the device will cease charging when fully charged. We advise all vape users to never charge your device with a standard phone charger or high amp charger as it is too powerful and can result in damage to the battery. When you are not using your device remember to turn it off by pressing the button 5 times, to turn on just do the same.
Battery life
The VAPO Flow's battery life will depend on the usage, however, the average battery life is around 1.5 days. Your device will indicate how much battery life is left by flashing either. Green= High (above 70% power) Blue= Medium (30-70% power) Red= Low (below 30% power)
Battery safety
The VAPO Flow has an internal battery which is very safe when used correctly. It is very important to never charge your device with a high amp charger. Most of our devices (including the VAPO Flow) have an auto shut off function to prevent overcharging. However, we do not recommend leaving any electronic device on charge for an extended period of time. We recommend purchasing a 0.5amp VAPO wall to USB adapter to charge your device. This removes the hassle of charging via a computer port. Always leave your mod in a safe place away from any flammable materials or heat. Heat can cause the juice in your device to thin and leaking may occur, or cause the device to overheat. Make sure to keep your device safe by handling it with care. Dropping your device can cause internal damage to the battery.
Get a VAPO Flow today!
If you are looking for a compact, stick style vape with lots of cloud and flavour then the VAPO Flow is the vape for you! Still not sure? Talk to one of the helpful members of the VAPO customer support team today for more information!