All About The HAIZ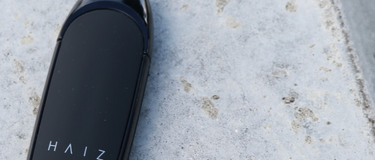 E-cigarettes come in a wide range of sizes and styles, from slim and stealth pod systems to bigger and longer pen style vapes. As the name suggests e-cigarettes are made to imitate the look, feel and draw of a traditional cigarette without the added nasties. Today we will be talking about the Haiz Pod Kit our most popular pod vape specifically purposed for people who are giving up smoking or are already using a vape. Read on as we take an in-depth look at the technology behind the Haiz, Flavours and other features!
What is HAIZ?
The HAIZ, our flagship pod kit consists of two components, the main body with an integrated battery, and, a replaceable pod, which contains the pre-filled e-liquid, ceramic coil and mouthpiece.
The Haiz kit comes in a choice of 9 delicious flavours, five original and an additional four flavours that were co-developed with Vapetasia. 
With the HAIZ, you have the choice of a 0% salt or 3% strength salt nicotine. Using 3% nicotine salt strength is a similar throat hit to that of a 12mg e-liquid that is perfect for a mouth-to-lung device. We use high mg salt nicotine to allow for a satisfying vape through the small style of a pod system. Each 2 pack of pods with the 3% nicotine salt is the equivalent puffs of roughly 5 packs of cigarettes.
Stealthier than most vape kits, the HAIZ is a great all-around vaping device that has been designed for people wanting to get off cigarettes and transition to a device that is 95% healthier!
The technology behind the pod.
The HAIZ pod utilizes CCELL coil Technology. CCELL Uses a porous ceramic as the wicking material, rather than cotton. The resistance to heat and the even heat distribution allow for the coil's lifespan to be extended rather dramatically in comparison to a cotton coil.
Utilizing CCELL coils the Haiz will consistently deliver outstanding flavour, and vapour delivery throughout the whole lifecycle of the pod. The pods come pre-filled with 2ml of e-liquid - twice the liquid capacity of other brands.
How to charge your HAIZ
All HAIZ vape kits are sold with a USB cable to charge it with, plug it in and connect to a USB port on your computer, or use one of our wall to USB adaptors we recommend that you don't change the HAIZ via a standard phone charger as this could result in damage to the battery.
The HAIZ takes 20-25 minutes to fully charge and has built-in protection against overcharging, however, never leave the device unattended when charging. 
Battery life
An important consideration when picking your E-cigarette is the battery capacity. Most small, discreet E-cigarettes contain small batteries (Less than 300mah) which don't store much charge resulting in the need to charge the device multiple times per day. The HAIZ has a massive 500Mah battery that not only packs a powerful punch but also lasts the whole day without charging.
Switch to the HAIZ Today!
If you are looking to give up smoking, or are looking for a new, discreet vape then the HAIZ is for you. Still not sure? Talk to our friendly VAPO
support team
today for more information!