VAPO HAIZ and nicotine salt - What is it and is it right for you?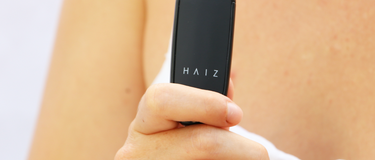 Here at VAPO, we are a jack of all trades and we try our hardest to be New Zealand's best at all of them! From bringing you the best imported juices from around the world, creating our own liquids and even designing our own hardware, we are always busy making sure we can offer you, our valued customers the best products possible.
Today we're going to be looking at one of our newest starter kits: the VAPO HAIZ pod vaping system! We'll discuss how it works and whether a pod style vape is the right product to help your transition to vaping.
Our VAPO HAIZ pod vaping system has been designed specifically for ease of use. Nothing is more paramount for a new vaper in New Zealand than a product that is as simple as it is effective. We took this in mind and have produced one of the most simple yet efficient starter kits in the world.
The VAPO HAIZ only has two components to it, the battery and the 'pod'. To help further explain how this device actually works, we'll look a little deeper into how the pod works.
The pod is the top part of this e-cigarette. Our pods are an all in one atomiser, pre-filled with our premium liquid as well as a coil, cotton and a mouth piece. This may sound a little complicated but in reality this creates the most simple way to vape.

Each HAIZ kit comes with one pre-filled vape pod to use. Simply slide It into the battery and inhale through the mouth piece. As you vape your liquid will deplete, purely because that liquid is turning into vapour. Once all the liquid has run out, throw away the pod and insert a new one.
No messy refills of the vaping pod or change of coil required here, just insert a new pod and you're away!
Our HAIZ is a little different to some other products you might find on the market, and that's thanks to our main special ingredient - nicotine salt!
As you probably already know, e-cigarettes are mostly effective due to the fact that they contain nicotine. What many people don't realise is that there are several forms of nicotine. Two we will be discussing here are freebase and nicotine salt.
Freebase is your standard nicotine that you will commonly find in your favourite liquids. We'll spare you the confusing details but basically they both have their different uses. Freebase nicotine is great for something to help sustain you throughout the day with a fairly low strength. It's absorbed moderately quickly into the bloodstream and doesn't mess with your liquid flavour that much. That is unless you want to use a high strength of nicotine. Freebase can then become a little bit of a problem as the flavour or even sensation can become quite unpleasant. Commonly most people who use a high strength freebase nicotine complain that it tastes harsh or peppery. Some even find it difficult to inhale as it can feel uncomfortable. This is where the magic of nicotine salt comes in.
Now regardless of the name, nicotine salt isn't actually just nicotine in a salt form being added to your liquid. Like freebase, it is also added in a liquid form. It is a more natural and stable form of nicotine than freebase nicotine.
Just looking at a juice with either nicotine in, you would not be able to tell the difference.
Nicotine salt has only become increasingly popular in the past year or so as e-liquid manufacturers have just found it's major selling point - it's far smoother to vape than freebase at high nicotine levels! This is perfect for those who want to try vaping but want to be more subtle by vaping less frequently and not producing as much vapour per drag.
Nicotine salt works great with higher strengths of nicotine. For example, with freebase, 18mg is usually about as strong as you can go before the flavour of the liquid is ruined or it's too uncomfortable to vape. With nicotine salts, you can vape anywhere from 25mg to 50mg perfectly comfortably.
Nicotine salts are similarly absorbed into your bloodstream as the nicotine from cigarettes, meaning it gives a very realistic sensation of taking a drag on a combustable cigarette. Some people require a short and stronger vape to effectively simulate and replace analog cigarettes. This is why our VAPO HAIZ kit pods are all currently 30mg nicotine salt. We have been testing these kits meticulously to find the right strength of nicotine to help everyone and anyone end their relationship with smoking, whether that be five smokes a day or 30. This really is a one size fits all vape. Just adjust your usage of the device according to your needs.
Each pod contains the equivalent of 2.7 packs of cigarettes!
So the bottom line here is "is this device right for me?". We've designed it so it's right for almost any person moving on from smoking or wanting a pocket alternative to their larger vapes that is still satisfying. Flavour of the liquid can play a big part of how effective vaping is for you so we've created four different pods, each filled with one of four of our most popular flavours. You can choose between Gold Tobacco, Watermelon, Lemon & Lime or Menthol Ice. Plus there are more on flavours on the way!
If any part of this article has interested you, we wholeheartedly invite you to pop into one of our stores around the country, email or call us to discuss with a trained customer service rep and vaping extraordinaire whether this device is right to help you make the switch. We can even organise for you to test one!
We've designed this product to help fellow Kiwi's maintain a healthier lifestyle and we hope you will enjoy it as much as we have enjoyed creating it for you.