Your Bud Is Here! All-New Dispo You Don't Wanna Miss!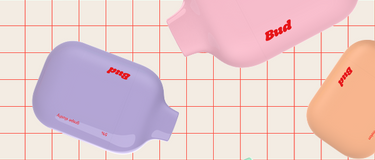 Are you looking to kick the cigarettes and want a pocket-friendly vape that's big on flavour and low on maintenance? A disposable vape you can bring with you anywhere without worrying if you have enough battery? Or are you just wanting a reliable backup vape?

Well, guess what, friend; we have a buddy for you. Or rather, we've got Bud!

Bud is a brand-new disposable vape that's been designed for convenient, long-lasting, flavourful vaping.

What makes Bud better than the rest, we hear you ask. Prefilled with nic salt vape juice, this bad boy holds 9ml of e-liquid and offers a massive 5000 puffs of vapelicious flavour (including Grape Slushy - voted fave flavour by the test team at VAPO). 

With a 500 mAh Battery that's rechargeable via USB-C, your Bud will be around when you need it. 
Bud disposable is also recyclable, thanks to VapeCycle!
Check out the Bud lineup.
Bud Blue Razz
is a nostalgic throwback. Each inhale has an icicle-like hit of cool sweetness, while delicious notes of blue raspberry take you back to your favourite candy from the past.
Bud Grape Slushy
is exactly what you've been looking for. Voted Favourite Flavour by us here at VAPO, Grape Slushy is a refreshing hit for all seasons. You'll love the taste of sugar-coated frozen grapes mixed with a chewy grape candy profile.
Bud Mango Melon
is the taste of Summer year-round. This mouth-watering blend of ripe mangoes and smooth melon is sure to be your new favourite.
Bud Passionfruit Sour
is a well-balanced blend of sweet and sour. The passionfruit is sweet and tarty, while there's a slight sour hint on exhale. Ideal if you like a bit of sweetness in your life that isn't too overwhelming. This cool fruity flavour is perfect if you want a taste of Summer.
Love a flavour that is sweet yet tarty?
Bud Strawberry Kiwi Sorbet
is for you. One of our favourite flavours here at VAPO, this delicious blend of sweet Strawberry and tart Kiwi, is finished off with a sorbet edge. Every inhale is a tasty hit!
Bud Watermelon Slushy
is the perfect introduction for beginner vapers. Featuring a blend of delicious pink watermelon mixed with a flavour that can only be described as a crunch of candy, Bud Watermelon Slushy is a perfect balance of refreshing fruit and sweet confectionery.
Bud's best bits:
Who is Bud disposable vape for? 
Smokers looking to quit smoking and try vaping

Vapers looking for a compact backup vape

Vapers looking for an inexpensive low-maintenance vape

Vapers looking for a longer-lasting disposable

The Downlow on Dispos: 
Do you know what makes up a disposable vape? There are six main parts: the mouthpiece (where you inhale), e-liquid (the juice that's heated to produce vapour), the integrated battery, the atomiser, the coil (heats the juice), and an LED light.
How do disposable vapes work? Well, when you take a draw from the mouthpiece, the vape activates and starts the heating process. The high-resistance coil creates a pull similar to a cigarette, and vapour is produced as the battery heats the coil, which has absorbed the e-liquid. And the best part? No buttons to press, so no worries about accidentally turning it on!
Using a disposable vape is super easy - simply remove it from the packaging and start puffing. They're designed to be used without too much force, so inhale slowly and without too much lung power to get the right amount of vapour.
So, when do you replace your disposable vape kit? When the battery dies, or the juice runs out. Most of the time, the juice will run out before the battery does, as disposable vapes are meant for a set amount of puffs. The vape will often stop working, or you won't be able to inhale, signalling that it's time for a replacement. However, with Bud, you'll be able to recharge your disposable vape. That means you'll be able to get all the juice out of your vape without worrying you'll run out of battery. 
And lastly, what do you do when you finish your disposable vape? Simply recycle your vape here in New Zealand with VapeCycle. 
With that knowledge, you can bring your bud wherever you go. Taste Bud now!