Meet Sierra - A New Nic Salt Range!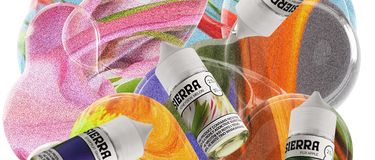 New juice alert! 🚨 New juice alert! 🚨 New juice alert! 🚨

It's a new year, new you (or same you! Nothing wrong if you're going strong), so why not fuel your vape with fresh e-juice? A delicious new range of nic salts has landed, and we promise you're gonna love them!

We've been working away on this one throughout 2022, formulating flavour that's juicier, smoother, and just all around more mouth-watering than ever before.

Meet Sierra, a juicy swirl of exotic fruit flavours blended and bottled into a collection of sweet vape juice. And guess what? It's made right here in New Zealand! And 100% recyclable thanks to VapeCycle.

Check out Sierra's five unique blends of nic salts!


Iced Mango
Iced fruit flavours are some of the most popular nic salts, and this one does not disappoint.
Sierra Iced Mango features a soft and syrupy mango flavour with a creamy undertone and a chill yet sweet finish. Each cool inhale has the taste of fresh mango slices.
Perfect for Summer days.

Strawberry Watermelon
A blend of the best fruity flavours. Refreshing watermelon is combined with Strawberry to produce a sweet and flavoursome juicy mix. Think candy sweet meets tangy, fruity notes. Sure to be a regular on your juice rotation.


Starfruit Grape
Grape lovers, this one's for you! Tangy Starfruit meets a blast of juicy grape. Sweet, tart and layered, Starfruit Grape is unique and exotic. Your new 'old reliable' is here.

Honeydew Melon
Sweet, succulent, and juicy. Honeydew Melon has a lush nectar-like taste with a light sweetness and a touch of creaminess for a deliciously fruity melon flavour.

Fuji Apple
Candy apples meet strawberries meets nectarines. Fuji Apple is a mouthwatering tangy burst of sweet nectar. Each inhale is fragrant, delicious and flavourful. On exhale, it's like biting into a sweet Fuji apple. Fan of fresh fruit vape juice? Choose Fuji Apple.


We told you you'd love the sound of these! Ditch your old juice; now's the time to be adventurous.

What are nic salts?
A nicotine salt is a more natural state of nicotine - closer to the form that of nicotine that is found in tobacco leaf. It is made up of freebase nicotine bonded with one or more organic compounds to create a more stable molecule.
This more natural make up of nicotine creates a molecule with a different pH compared to freebase nicotine. The pH corresponds to throat hit so a more neutral pH (as found in nicotine salts) can create less of a throat hit - even at high nicotine levels. A lot of vapers find nic salts preferable to freebase as it provides a smoother vaping experience.
Different nicotine salt solutions may have varying amounts of throat hit at the same strengths - 25mg nicotine salt e-liquid might be super smooth on one flavour, but another flavour with the same strength might have more throat hit.
Read
more he
r
e
.
So what are you waiting for? Try something new and savour the flavour of Sierra.
Shop the range now
!
Learn more about
choosing the right e-liquid flavour here
.
Ready to recycle your vape juice bottle? Check out
VapeCycle
.