All About AISU and Zap! Juice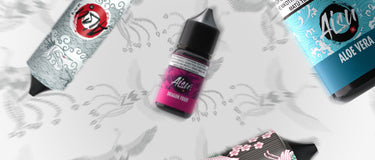 We wanted to clue you in on one of our favourite juices….
It's one of the most popular e-liquid brands in the world. It's British, sometimes with a Japanese twist and one of the best-selling ranges of vape juice in New Zealand (at least at VAPO). Each bottle features a 'zap' of flavour that is incomparable to any other e-juice.

Is that enough of a hint? This distinctive e-liquid collection is quite literally on the tip of every vaper's tongue! If you haven't guessed, we're talking about AISU by ZAP! Juice! 
Founded in 2016, ZAP! Juice was created to shake up the vape juice market. Tired of big corporations having a monopoly, this female-led powerhouse launched and immediately made history (thanks partly to breaking up the boys club)!

Having won multiple awards, ZAP! Juice has now established itself as a market leader in producing reliable, innovative and delicious e-liquid with unique flavours.

Mixed and bottled in Manchester in the UK, their e-liquid has been formulated with one mission in mind: a dedication to good quality vape juice with a punch of unforgettable flavour. 
One of the most popular lines they produce is AISU and its newest spinoff AISU Tokyo.


As you may have guessed, this vape juice range has been inspired by the beauty and tastes of Japan. The word AISU is a good indicator of what to expect on your first try (think cool). Any guesses? In Japan, the word for iced is AISU! 

The AISU vape juice range draws inspiration for its flavour profile from a popular shaved ice dessert known in Japan as Kakigōri. If you're familiar with Kakigōri, you'll recall the deliciously sweet fruit syrup drizzled over shaved ice that is both refreshing and indulgent. 
AISU by ZAP! Juice is a collection of artisan-style e-liquid with exciting and unusual fruity twists on familiar flavours. Featuring icy, fruity and menthol flavour profiles, this range has delicious and fresh flavours for vapers wanting something original.
AISU's ultra-chilly edge is like stepping foot on Mt. Fuji (maybe that's a slight exaggeration, but you'll love how ice-cool AISU hits). As you make your way through each lush flavour, you'll instantly be transported to the taste of Kakigōri, nostalgic for those familiar and a delight for the newbies.

Housed in bottles featuring intricate and ornately designed patterns that capture the essence of the culture the brand is inspired by, AISU by ZAP! Juice! is not only mouth-wateringly good but also aesthetically pleasing. A bottle you'll want to show off! 
Or, if you prefer something more timeless, AISU Tokyo has an elegant black bottle with a pop of colour for a sleek bottle that offers an understated yet modern aesthetic and equally delicious and inspired flavours.

AISU features flavours like Cactus, Dragon Fruit, Aloe Vera, Blue Raspberry, Pink Guava and more!

Or maybe you'd prefer AISU Tokyo? We're sure you'll love Banana Cake, Watermelon Bubblegum, Pink Raspberry Lemonade or classic Rich Tobacco. Check out the full line-up here!

Shop AISU by ZAP! Juice



AISU FAQ:
Who is ZAP! Juice?
A UK-based e-liquid company that produces AISU, AISU Tokyo, Mokasmo and more! 
Where is AISU by ZAP! Juice made?
AISU vape juice is made in Manchester in the UK.

What does AISU mean?
AISU is the Japanese word for iced. It's a reference to the Japanese shaved ice dessert called Kakigōri. 
What makes AISU vape juice unique?
Japanese-inspired exciting, and unusual fruity twists on familiar flavours!
Is AISU a nicotine salt?
Yes, AISU is made with nicotine salts.
Buy AISU vape juice now!