Vaping to Quit Smoking: Does it work?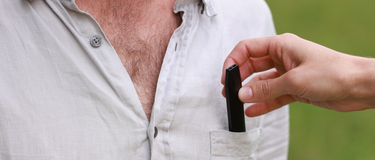 You may have heard it all before and are probably no stranger to the fact that smoking is not good for you, you may even be on the road to quitting now, if that's you, then don't give up! The team at VAPO understands the pain that many smokers go through when they decide to quit - it's tough. We understand that. That's why we have written guides on the best alternative to smoking - vaping. Read on as we discuss vaping vs. the traditional quit smoking methods!
The issue with patches and gums
The problem with nicotine patches & gums is that they don't give you the same draw, feel and taste as a cigarette and for the most part, are difficult to use. Some of the mentioned quit smoking tools even required a visit to the doctor to get access to them! Luckily, there are now more and more options available to us that are designed for ease of use and even emulate the function of a cigarette & taste, without all the added nasties. One method that has been proven to be safe, effective, cheaper and long-lasting is e-cigarettes.
E-cigarettes or vaping is by no means a new concept, it has been around for a few years now and the quit smoking tech behind it is only getting better! At VAPO we are passionate about getting people off cigarettes and transitioning them to a product that is 95% less harmful. Read more below to find out tips on making the switch to a vape! 
Vaping as an aid to quit smoking 
When you transition from cigarettes to vaping it is important to choose an e-cigarette starter kit that has a similar feel and draw like a cigarette. Our HAIZ Kit or Alpha Kit both fulfil this need and are our most popular vape kits to use when quitting smoking. You can read more about our Alpha vape pen here.
At VAPO we understand that switching to a vape can seem like a task that requires research, and knowledge of vape terminology to understand. We want to make the transition easy. Ease of use is the ethos that surrounds many of our e-cigarette products. We have even further broken down the barrier by providing our customers with easy access information on all the different types of vape kits and liquids.
Why vaping works
The feeling of vaping is similar to that of a cigarette, you inhale the vapour into your mouth, then into your lungs (Mouth-to-Lung or MTL). The whole vaping process has been designed to act as a cigarette replacement even down to finer details like the shape and device discreetness. E-cigarettes are generally sold with a variance of nicotine strengths and flavours, this allows the user to customise their experience and over time reduce their nicotine intake. To find out how much nicotine you need it is best to choose a high level initially and then slowly work down towards a lower nicotine strength. This gives you the ultimate control on how you use your device and where you use your device.
Are you ready to purchase your first vape? Read our comprehensive guide to buying your first vape.
Talk to an expert today! 
At VAPO we have a team of experts available to chat about your needs. If you are still not sure about how to successfully make the switch to vaping then
contact our team today
!