Best Disposable Vapes 2023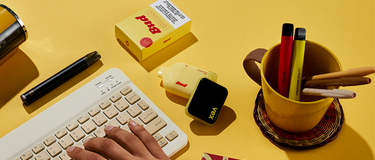 Looking for the best disposable vapes? We've got you sorted! We've compiled a list of the best disposables on the market. 
The best disposable vapes offer flavour, simplicity, convenience and generous puff count. From classic vape pen styles to disposables with a more contemporary design, there is a device type for all. Our list features fan favourites and some new entries we think you'll love!
Whether you're searching for big puff counts, a huge flavour range (we're looking at you, solo), or a disposable that lasts a little longer than the rest, below, you'll find the perfect disposable vape for your wants and needs. 
Our in-house product testing team of experienced vapers has tested every device and every flavour below, so you can rest assured you're making an educated decision! 

Bud is the long-lasting disposable vape. With a 500 mAh Battery that's rechargeable via USB-C, your Bud will be around when you need it!
Featuring 9ml of nic salt e-liquid and a mesh coil for peak performance, Bud has a massive 5000 puffs of mouth-watering flavour! Choose from 12 flavours!

Shop the range here.

Simplicity meets satisfaction in the alt. Nu disposable vape, made to be on the go with you. 
From the makers of the alt. Pod vape, alt. Nu is a sleek and discreet device with a familiar feel. With 17 flavours, 3ml of nicotine salt e-liquid and a FEELM MAX ceramic coil, alt. Nu produces silky vapour and features 1200 premium puffs of pure flavour. 

Shop the range here.

VEX disposable is the perfect balance of performance, convenience, and taste.
With a massive 1000 puffs, VEX disposable is perfect for those who love extended vaping sessions without the hassle of refilling or recharging. This vape comes equipped with a high-performance mesh coil that delivers a smooth and satisfying hit every time.
With an impressive e-liquid capacity of 3.0ml and a 400mAh battery capacity, you'll enjoy long-lasting flavour and vapour production.
Shop the range here.

solo disposable vapes come fully charged for easy vaping anywhere, any time. solo features 15+ flavours, and two sizes, with 1000 puffs in solo and 2800 in solo Plus, all full of refreshing hits. solo is pod-free, single-use and does not require recharging.
solo is easy to use. All you do is remove it from its packaging, peel away the sticker at the bottom of the device, and it's good to go! Start puffing! 
Shop the range
here
.

You can recycle all of the above disposable vapes for free through VapeCycle.