Best Pod Vapes 2023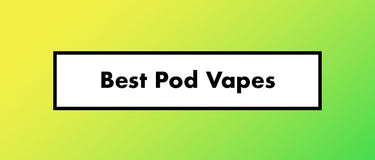 Best Pod Vapes in 2023
Pod vapes, also known as open or closed pod systems, are portable and user-friendly vaping devices designed for those seeking a more convenient and discreet alternative to traditional e-cigarettes and bulkier vaporisers. Not to be confused with pod mods, which are generally bigger and offer more customisation, these devices typically comprise a small, compact battery and a disposable or refillable pod cartridge containing e-liquid. The pods often have a limited capacity and are easy to replace.

Pod vapes offer a smooth and satisfying vaping experience with user-friendly, straightforward functionality.

Open pod vapes typically work well with nicotine salts, providing a more potent nicotine and flavour hit than freebase e-liquids. They've gained popularity for their simplicity and suitability for both beginners and experienced vapers.

Keen for some further reading? Take a squiz at our blog post: Refillable Pods vs. Prefilled Pods vs. Disposables! What's Best For You?
5 Best Pod Vape Brands at VAPO
In this post, we'll highlight the best refillable pod vapes from the likes of
GeekVape
,
UWELL
,
Vaporesso
, and more. However, stick around because we briefly shout out the best closed-system pod vapes (you already know alt. is numero uno on that list!). The brands below are known for their performance, quality, vapour output and first-class flavour production. 
UWELL Caliburn G3 Pod Vape
UWELL's Caliburn G3 Pod Kit comes with a 20% improvement in performance compared to its predecessor, thanks to the generous 900mAh battery capacity.

The G3 is the first in the G series to offer 0.6ohm resistance, and with a maximum 25W output of adjustable power, this pod is perfect for RDL freebase users and open MTL nicotine salt users.

In another first for Caliburn's G series, the G3 features an OLED display that allows users to fine-turn their vaping experience. Easily view performance details such as puff count, resistance and wattage. With its simple single button, select from 3 firing modes, including auto draw activation, trigger button lock, or dual action mode, allowing you to combine both.

Caliburn G3 Replacement Pods feature an all-new integrated coil with a side-fill and air-tight design for enhanced leak resistance with intense flavour production that's second to none. Experience flavour and aroma like never before thanks to the FeCrAl Meshed CALIBURN G3 Integrated Coil Cartridge.

Everything you love about the Caliburn line has been elevated and perfected in the G3, so we've ranked it as one of the best pod vapes.

Shop the Caliburn G3 Pod Kit here.
Shop the full range of UWELL pod vapes here. 


GeekVape Wenax H1 Pod Vape
GeekVape has married form, function and performance in this easy-to-use, practical pod vape. 


The Wenax H1 has a 1000mAh built-in battery that lasts up to 2 days before it needs charging. Though the battery level may decrease, you'll still enjoy consistent power for reliable draws until your pod or device is all out of juice. 
With 3 different power levels and an LED indicator that displays the battery level, the Wenax H1 is a dynamic device that adapts to your lifestyle.

Scratch-resistant, leak protection and shock-absorbant, the Wenax is a slimline device that fits perfectly in pocket, purse or hand.

Wenax H1 Replacement Pods allow tight, smooth MTL vaping and have a 2.5ml e-liquid capacity. Not only does the battery last longer, but the above-average e-juice capacity means longer vaping before needing to refill.
New vapers will love its simplicity, while advanced users must experience the latest GeekVape offers!

Shop the GeekVape Wenax H1 Pod Kit here.
Shop the full range of GeekVape pod vapes here.
Vaporesso XROS 3 Pod Vape
Vaporesso's third generation of their popular XROS series is here! Meet the XROS 3, engineered for power with a 1000mAh high-density battery, a shell designed for comfort with rounded edges, and a mouthpiece optimised for the perfect mouth fit.

Enjoy all-day vaping, adjustable airflow, and the option of either tight MTL or looser RDTL vaping, depending on which pods you use. Speaking of pods, XROS pods are cross-compatible across the XROS range.

It's not only us who consider this one of the best pod vapes; check our customers' highly-rated reviews, highlighting fast charging, exceptional airflow control with the adjustable slider on the battery, and perhaps most importantly, Vaporesso's trusted SSS Leak Resistant Tech meaning no messy vape juice leaks!

It is ideal for beginner vapers or those wanting a pod vape with more customisation than your standard pod.

Special mention to the mini! The XROS 3 Mini is everything we love about the XROS 3 but in a smaller, more compact device without a button. https://www.vapo.co.nz/products/xros-3-mini-pod-kit
Shop the Vaporesso XROS 3 Pod Kit here.
Shop the full range of Vaporesso pod vapes here.
LVE Orion II Pod Vape
Pod vaping is a whole lot more interactive with the LVE Orion II Pod Kit.
Constructed from durable zinc alloy, the chassis of the Orion II has a premium and interactive design. What does interactive mean? Well, it has interchangeable decorative panels for unique customisation. Get an LVE Orion 2 Pod vape with a friend and switch panels between you!

The Orion II vape is perfect for extended vaping sessions, easily lasting through the 4.0mL refillable pod capacity, thanks to its integrated 1500mAh LiPo battery. Meaning you and your mate can easily vape the day away! A vertical rolled mesh coil design ensures satisfying flavour production. With an adjustable airflow control ring, the Orion II Pod vape has been optimised for either Mouth-to-Lung or Direct-to-Lung vaping.

Shop the LVE Orion 2 Pod Kit here.
Rift Pod Vape
Affordability has never looked so good! Though only recently launched, the Rift is one of the best pod vapes around!

Developed in-house by VAPO through a collaboration with Aspire, known for their exceptional coils and reliability, the Rift is a sleek and small open pod kit that masterfully combines cutting-edge mesh technology and a conveniently compact, pocket-sized battery perfect for all-day vaping.

If you're testing the pod vaping waters, this is the device to start your journey with!

This simple pod vape is economical yet has power and performance comparable to more high-end devices like the Caliburn range.

Shop the Rift Pod Kit here.
Best Closed Pod Vapes
It's the number one pod vape in New Zealand. Considered the best pod vape across both open and closed pod systems. With 20+ flavours of pods, a range of nicotine strengths including 0%, and fully recyclable, the alt. Pod vape is not only the definitive alternative to smoking but the definitive pod vape full-stop! 
Our flagship pod device, the HAIZ is considered one of the best closed pod vapes in New Zealand.

Ev

en

after being in the market for over 5 years, it's still a popular choice for many vapers. Enjoy easy vaping, delicious flavours and multiple nicotine strengths. 
VEX is next. Why is VEX next? Because it's the next pod vape for you! VEX features next-level flavour and delightful aromas across 12 pod flavours, available in single and selected double pod packs! 
Best Pod Vapes with Long Battery Life
Looking for all-day vaping pod vaping? Look no further! We've highlighted three of the best pod vapes with long-lasting battery life. Enjoy consistent flavour and enduring performance without recharging your vape before the day ends.
Geekvape Wenax U Pod Kit
This powerful pocket-sized pod is the perfect vape for those wanting a device with plentiful battery life. The 1000mAh battery capacity ensures you'll enjoy almost endless puffs during the day before needing to recharge.

Buy Geekvape Wenax U Pod Kit here.
UWELL Crown D Pod Kit
The crown jewel of long-lasting battery life is here! Experience this powerhouse of a pod vape and never look back. The Crown D Pod kit is available in 4 timeless colours and sports an 1100mAh battery, more than enough 'juice' to see you through before your next charge.
Buy UWELL Crown D Pod kit here.
Vaporesso Luxe QS Pod Kit
Power never looked so good! A durable zinc alloy body meets a ribbed design for a stylish device with a powerful 1000mAh integrated battery. Available in 5 colourways.
Buy Vaporesso LUXE QS Pod Kit here.
Best Pod Vapes with Fast Charging
Looking for a pod vape that charges fast? Look no further than the speedy options below! 
UWELL Caliburn A3 Pod Kit
It doesn't get any quicker than this! The Caliburn A3 Pod Vape features an astounding 15-minute fast charge and is available in 4 colourways.
Buy Caliburn A3 Pod Kit here.
UWELL Caliburn A2S Pod Kit


Here's another testament to the UWELL brand!
Enjoy fast charging and reach 90% battery capacity in just half an hour with the Caliburn A2S. Available in 6 colourways, including a gradient option.
Buy Caliburn A2S Pod Kit here.


Geekvape Wenax M1
Slim, sleek, and discreet! This lightweight device features heavyweight fast charging and reaches full battery capacity in under an hour! Available in four colourways.
Buy Geekvape Wenax M1 here.

Hellvape EIR Pod Kit
Does the Hellvape EIR have fast charging? Hell yeah, it does! Available in 4 stunning colours, this little powerhouse is charged in only 40 minutes! 

Buy Hellvape EIR Pod Kit here. 
Do you agree with our best pod vapes ranking, or do you think we left something off? Did we provide a little enlightenment for those new to vaping?

We hope you found this list helpful when choosing your new pod vape. It's quite common for people to have more than one pod vape, so don't feel like you need to limit yourself to a single device. Pod vapes are some of the most convenient and handy vaporisers on the market, meaning a low-maintenance vaping experience is assured. With a range of features and price points, there's a pod that's perfect for you!

At VAPO, we only stock the best of the best when it comes to vaporisers. As such, we have a near-constant stream of new vapes and vape gear arriving all throughout the year. Keep an eye on our New Products collection for the latest arrivals.

Shop our full range of pod vapes, including pod mods, here and enjoy free overnight shipping throughout New Zealand on orders over $50!